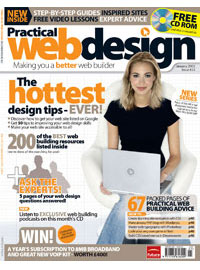 "Practical Web Design is the UK's best magazine for web building tutorials and advice (covering the likes of HTML, CSS, PHP, MySQL, Dreamweaver, Flash, fireworks, an Photoshop).
In the new-look Practical Web Design we've set out to create a magazine full of community and personality, which mirrors our readers' passion for web building. To achieve this we've introduced a number of new features; added even more tutorials; partnered with Lynda.com, the leading online producer of video lessons; and commissioned Paul Boag, a top UK designer, to create an exclusive podcast for the magazine every month.
With an unrivalled team of web design experts, new community-driven features, and exclusive CD content, we're confident that we've developed Practical Web Design into the number one magazine for web builders." – Dan Oliver, editor.
EDITORIAL:
Editor: Dan Oliver [email protected]
Art editor: Chris Bates [email protected]
Production editor: Tina Pluchino [email protected]
CD editor: Sam Cavender [email protected]
ADVERTISING:
Advertising manager: Rosa Smith [email protected]
Senior Sales Executive: Nejla Unal [email protected]
Sales executive: Helen Crossman [email protected]
Practical Web Design magazine is published by Future Publishing in the UK.